Classes & Events
Hanson's Scarecrow Contest
Voting Rules:
-One ballot per person for entirety of contest
-Ballots can be picked up at the HGV Office
-Follow voting instructions on the ballot sheet
-Turn in completed ballot at the HGV Office or ballot mailbox
-Popular vote wins in each category
-Winners Announced October 31st

---
Hanson's Pumpkin Patch &
Children's Straw Bale Maze
Come to Hanson's fun indoor pumpkin patch and pick out everything for your fall decor needs!
We keep our pumpkins inside to protect them from frost and keep them lasting throughout the season.
Bring your kids to play in our free Children's Straw Bale Maze while you shop!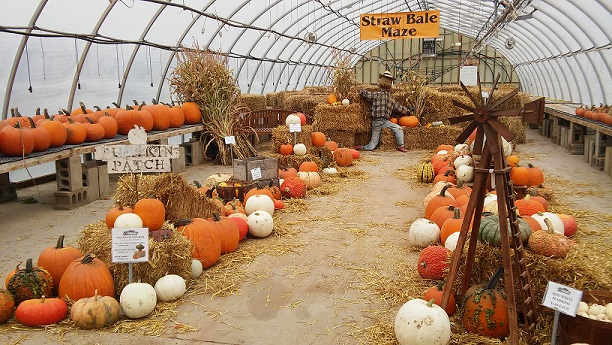 Open During Regular Business Hours
---
Hanson's Corn Maze
Over 2 acres of fun with a challenging scavenger hunt!
Get lost in our labyrinth! Play all day!
$5.00 entrance fee
Children 2 and under free
Not Stroller Accessible
Open During Regular Business Hours
---
Tractor Hay Rides
Hop on our hay wagon and get pulled behind our tractor
through our field to enjoy the fall colors!
Available Saturdays from 10am-3pm
Added Dates: 10/20 & 10/23
- or -
By Appointment For Larger Groups
$3.00 per person
Children 2 and under free
---
Apple Slingshot
Can you hit one of the three field targets using our apple slingshot?
$1 for 3 Apples
---
Saturday Fall Activity Bundles
Enjoy our corn maze and a fall tractor hay ride on Saturdays from 10am-3pm,
along with our free Children's Straw Bale Maze at Hanson's Pumpkin Patch!
Available Saturdays 10am-3pm
- or -
By Appointment For Larger Groups
Added Dates: 10/20 & 10/23
Children 2 and under free
---
Large groups or school groups looking to participate in Hanson's fall activities
can call the office for more details! 715-365-2929
---
Fall Fest 2017
Saturday, October 21st, 2017
10:00am-3:00pm
Rain or Shine
$7.00 per person
2 and Under Free
Entrance proceeds benefit our community partners that help run this event:
RHS FBLA/Deca Chapter, RHS Music Department and
Girl Scouts of the Northwestern Great Lakes - Northwoods Service Unit
Join us for our annual fall celebration! Fall Fest is celebrated every third Saturday in October. It is Hanson's Garden Village's last big event before we close down for the winter months. Fall Fest was created to give the local community an opportunity to do fun, fall activities as a family. Proceeds from Fall Fest benefit the many community and school groups that help run the event. Past groups that have helped with the event include: Rhinelander High School Music Department, Rhinelander High School FBLA/DECA Chapter, Oneida County 4-H and The Rhinelander Area Optimist Club.
Activities Include:
Kraft's Kuddly Kritters Petting Zoo (10am-2pm)
Corn Maze with Scavenger Hunt
Tractor Hay Rides to Feed Chickens
Children's Indoor Straw Bale Maze & Scavenger Hunt
Scarecrow Contest Display & Voting
Pumpkin Bowling
Apple Slingshot
Children's Games & Crafts
Face Painting
Hanson's Pumpkin Patch With Fall Decor & Pumpkins For Sale
Come Dressed in Your Halloween Costume
Meet the Hodag
Musician David Dall
Girl Scouts Activities & Information
Ripco Credit Union Booth featuring Disney Princesses
Full concession stand with warm food and drinks operated by the RHS Music Department
---
Can't make a class? Keep in mind our Potting Barn has a work space just for you! Bring out your pots, buy your plants and pay for your scoops of soil! We clean the mess! Or get a group of friends and create your own workshop (see details below)!
---
Book Your Own Private Workshop
Would you like to host a Fairy Garden Class for your child's birthday? Does your
social group need a spring activity? Do you have friends and co-workers that want
to join you for a private garden workshop?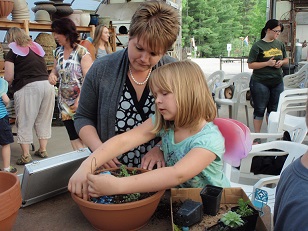 If you organize at least 6 participants (birthday parties, summer group activities,
garden clubs, co-workers, friends, family, social clubs etc.), we will host a private
garden class for you!
We can host one of our popular classes, or we can work with you to tailor a class
to your group's needs or interests!
Fees for the class are per person and are determined by the type of workshop and
the materials used.
Times and dates are flexible, so call today to book your own private workshop!